Iceland – Land of Fire and Ice
June 8-17, 2023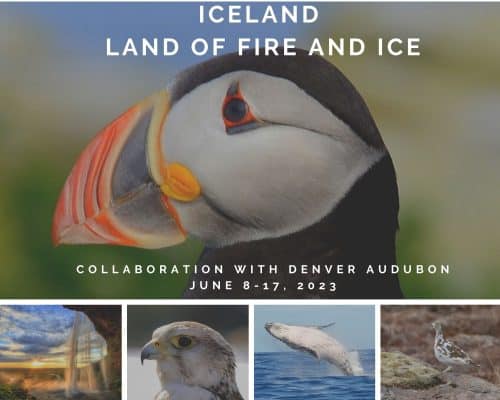 Collaboration with Denver Audubon

Often referred to as the "Land of Fire and Ice", Iceland's landscape is characterized by waterfalls, geysers, glaciers, volcanoes, beaches, thermal hot springs, and otherworldly steaming lava fields. In addition to stunning landscapes, Iceland is a birder's paradise. Its remote location at the junction of two oceans allows for a unique mix of migratory and vagrant species. Join Reefs to Rockies and Denver Audubon on this unforgettable 10-day birding and natural history tour to Iceland.
About Your Guide: Snorri Ingason has been guiding Iceland visitors from all over the world since 2012. He's been involved in monitoring bird populations in southwest Iceland since 2008. His passion for a variety of topics ranging from local history and geology to Iceland's charismatic birds is sure to keep you engaged throughout this 10-day expedition.
ITINERARY
Day 1 (Thurs, June 8): Arrival – Reykjavik ~ Upon arrival to Keflavik Airport, you'll be met and transferred to Reykjavik for a guided city tour. This afternoon, soak in the Blue Lagoon's therapeutic waters, an excellent way to relax after your overnight flight.
Accommodations: Fosshotel Reykjavik or similar
Meals: Breakfast
Day 2 (Fri, June 9): Reykjavík – Snæfellsnes – Stykkishólmur – Flókalundur ~ Today, we explore Snæfellsnes Peninsula which has a rich diversity of habitats including coastal shoreline, cliffs, lakes, rivers, and wetlands. We expect to find an array of birdlife in this varied terrain. We also travel around Snæfellsnesjökull glacier, the core of Snæfellsnes National Park.
This afternoon, we travel to Stykkisholmur Village and take a lovely ferry ride across the spectacular seascape of Breidafjordur Bay dotted with 3,000 tiny islands. Encircled by mountains and Snaefellsjokull Volcano, the dramatic bay is home to 50 bird species, including the rare White-tailed Eagle and gray seals that enjoy lounging about on the small islets.
Accommodations: Flókalundur Hotel or similar
Meals: Breakfast and Dinner
Day 3 (Sat, June 10): Rauðisandur – Breiðavík – Patreksfjörðr ~ Discover unique sights today in one of the least visited places in Iceland. A highlight of our day is a stroll along Raudisandur Beach, a 10-km cinnamon-colored sculpture of sand and shell that is unlike anything else in the country. The mesmerizingly beautiful beach shifts in color from golden to orange and red depending on light conditions. There's even time to peruse unusual treasures at the quirky folk museum in Hnjotur.
Accommodations: Breidavik Hotel or similar
Meals: Breakfast and Dinner
Day 4 (Sun, June 11): Látrabjarg ~ Early morning hike to reach Latrabjarg, Europe's largest bird cliff and one of the world's Greatest Wildlife Spectacles. Stretching 14 km and peaking at a height of 441 m, Latrabjarg Cliffs are located as far west as it is possible to stand in Europe. On high, jagged formations shaped by volcanic action and pounding icy surf, the stunning cliffs host huge colonies of seabirds including auks, murres, razorbills, and puffins. Safe from Arctic foxes, the birds are fearless, providing excellent photo opportunities.
Accommodations: Breidavik Hotel or similar
Meals: Breakfast, Picnic Lunch, and Dinner
Day 5 (Mon, June 12): Bíldudalur – Ísafjörður ~ Today we'll travel along the winding coastline past magnificent fjords as we make our way to the colorful fishing village of Isafjordur. As the honorary capital of the Westfjords, Isafjordur boasts a lovely old town center with beautifully restored timber buildings, a thriving harbor, and stylish cafes. En route, we'll stop at the spectacular Dynjandi ("The Thunderer") Waterfall, a collection of seven cascades resembling a tiered wedding cake.
Accommodations: Hotel Isafjordur or similar
Meals: Breakfast and Dinner
DAY 6 (Tues, June 13): Ísafjörður – Hólmavík – Gauksmýri ~ From Isafjordur town, today's route provides stunning views. We'll stop at Little Baer, an old farm to enjoy freshly baked waffles with whipped cream and jam, a local favorite. We'll also stop at the peculiar Museum of Sorcery and Witchcraft.
Accommodations: Hotel Laugabakki or similar
Meals: Breakfast and Dinner
Day 7 (Wed, June 14): Gauksmýri – Húsavík ~ We'll make our way to Húsavík for our afternoon sailing tour that combines whale watching and birding. On board, experience the aura of past times by setting sails or assisting the skipper. The Schooners take you to Lundey, the Puffin Island, as well as productive whale watching areas. This is your chance to observe magnificent marine animals that inhabit Skjalfandi Bay. The bay is always full of surprises. Common species in the region include white-beaked dolphin, harbor porpoise, minke whale, and humpback whales depending on time of year.
Accommodations: Fosshotel Husavik or similar
Meals: Breakfast and Dinner
Day 8 (Thurs, June 15): Húsavík – Mývatn ~ After breakfast, we'll head to the Lake Mývatn area stopping by Godafoss Falls or "Waterfall of the Gods". In Myvatn, we'll enjoy a proper thermal soak at Mývatn Nature Baths before spending the afternoon birding at area hotspots.
Accommodations: Fosshotel Mývatn or similar
Meals: Breakfast and Dinner
Day 9 (Fri, June 16): Mývatn ~Full day of birding local hotspots. The Lake Mývatn region is renowned for its incredibly rich birdlife making it a birder's paradise. The lake is home to one of, if not, the world's greatest diversity of nesting ducks. The area is also well known for its large populations of Gyrfalcon. There's also time to stop at Skútustaðir pseudo-craters, Grjótagjá Cave and Krafla volcanic area, as well as visiting Sigurgeirs Bird Museum.
Accommodations: Fosshotel Mývatn or similar
Meals: Breakfast and Dinner
Day 10 (Sat, June 17): Mývatn – Akureyri – Flight to Reykjavik – Departure ~ Transfer to Akureyri for the 45-min flight to Reykjavik and then transfer to Keflavik in time for our flight home.
Meals: Breakfast
DETAILS
Price: $5250* per person based on two people sharing double occupancy accommodations. Add $1000* if you prefer a private, single occupancy room.
Includes: private ground transportation; 10 days with private driver/guide; accommodations; meals as listed; ferry from Stykkisholmur to Brjánslækur; entrance fees (Icelandic Sorcery & Witchcraft in Hólmavík, Myvatn Nature Baths, Blue Lagoon, Sigurgeirs Bird Museum in Myvatn, Hnjotur Folk Museum); Whales, Puffins & Sails tour from Husavik; and flight from Akureyri to Reykjavik.
Excludes: international flights, passport/visa fees, travel insurance, meals not listed, alcohol, treatments at Blue Lagoon, optional activities, gratuities (tipping is not standard practice in Iceland), and items of a personal nature.
Group Size: 8-10 Participants + Driver/Guide
A portion of the proceeds from this trip help fund Denver Audubon's school, family, and conservation programs.
*Price is based on payment by check. Credit card fees will be assessed at time of booking based on type of card used.
Reserve Your Spot Now!