North Park Wildlife Weekend
August 4-6, 2023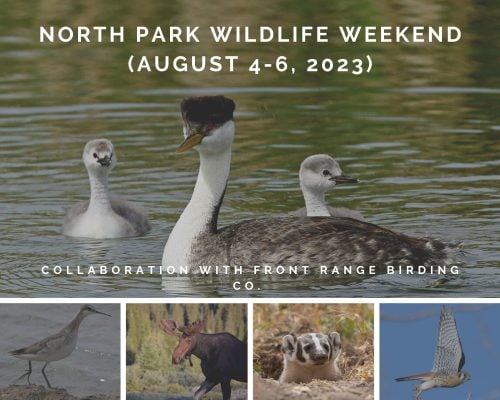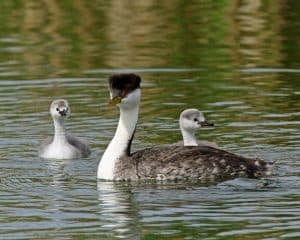 American Serengeti Series
Summer in Colorado's High Country brings baby birds, doting parents, and ID challenges in the myriad of available habitats in Clear Creek, Grand, Jackson and Larimer counties. Join Front Range Birding Company and Reefs to Rockies in this 3-day trip to North Park in search of colonial waterbirds, sagebrush, and forest birds. Highlights may include piggy-backing grebes and other waterfowl, raptors, Sage Thrashers, and maybe even Greater Sage-Grouse or Moose!
We have strategically selected areas away from crowds so that we have the time and space to truly enjoy these wildlife spectacles in true Reefs to Rockies style. We'll travel in a custom American safari van with a conversion pop-top and spacious seating. This is not the traditional passenger van you may have traveled in on past trips. This one-of-a-kind vehicle has been specially designed by two wildlife biologists to allow for optimal viewing. It makes a perfect 'blind' and there's ample room for everyone to view at the same time.
About Your Expedition Leader: Chip Clouse is a long-time bird tour leader and Reefs to Rockies' Lead Naturalist Guide. He's also ProStaff for Opticron Optics and Former Manager of Front Range Birding Company.
Originally enamored with tooth and claw predators, his fascination with birds started by volunteering with the North Carolina Wildlife Resources Commission to monitor Peregrine Falcon nest sites. His fascination and love for birds was cemented once he saw his first Western Tanager while working for the Peregrine Fund in Oregon. Chip's experience includes 20 years of bird research and project management experience in nine states and the Caribbean nation of Grenada, a Masters in Conservation Biology from Colorado State University, five years with the American Birding Association, two years as a rep with Novagrade Digiscoping adapters and stints guiding at 15+ different US birding festivals.
Chip is excited to share his love of Colorado birds and habitats in this trip to North Park.
Conservation Impact: The Southern Plains Land Trust (SPLT), founded in 1998, creates and protects a network of shortgrass prairie preserves, ensuring a future for native flora and fauna. A donation to SPLT to aid in their land acquisition efforts will be made on behalf of all participants.
TRIP HIGHLIGHTS:
Berthoud Pass
Windy Gap Reservoir
Arapaho National Wildlife Refuge
State Forest State Park
Cameron Pass
Larimer County hotspots
ITINERARY
Day 1 (Fri, Aug 4): Denver/Granby/Walden ~ We will arrange a meeting spot in west Denver before continuing up I-70 to US 40 and Berthoud Pass. The rest stop on Berthoud Pass often has high-elevation birds like Canada Jay, Pine Grosbeak and Cassin's Finch. Next is Windy Gap Reservoir near Granby for waterfowl, American White Pelicans and more. We'll continue on toward the town of Walden with possible stops along the way based on recent sightings and group interest. Sunset may yield surprises!
Accommodations: North Park Inn
Meals: Lunch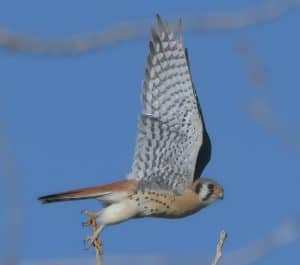 Day 2 (Sat, Aug 5): North Park Hotspots ~ The Arapaho NWR Auto Tour and Moose–Goose Nature Trail start our day in North Park. There should be ample opportunities for viewing waterfowl, Sora, and Sagebrush species like Sage Thrasher, Green-tailed Towhee, Brewer's Sparrow and more. We'll continue to area reservoirs where we hope to get lucky with spotting Western Grebes with babies in tow (no guarantees in birding!) The town of Walden also harbors some good birds, including roosting Common Nighthawks, with additional North Park stops dependent on recent sightings and group interest.
Accommodations: North Park Inn
Meals: Breakfast and Lunch
Day 3 (Sun, Aug 6): Walden/Cameron Pass/Fort Collins/Denver ~ We'll start this day with any North Park mop-ups or head straight to the Moose Visitor Center feeders at the State Forest State Park. Mountain Chickadee, Red-breasted Nuthatch, Gray-headed Junco, Steller's Jay, Hairy Woodpecker, and even Pine Grosbeak frequent these feeders. We will stop atop Cameron Pass and look briefly for some higher elevation species Canada Jay and Brown-capped Rosy-Finch before continuing down Poudre Canyon toward Ft Collins. Stops in "the Fort" may include Watson Lake and/or Prospect Ponds (depending upon recent sightings and time) before continuing back to Denver with a 5 pm arrival time planned.
Meals: Breakfast and Lunch
DETAILS
Price: $1195* per person based on two people sharing double occupancy accommodations. Add $175* if you prefer private, single occupancy accommodations.
Inclusions: accommodations, driver/guide (Chip Clouse from Reefs to Rockies), transportation in custom safari van from west Denver meeting point, daily guided birding with spotting scope available, permits, entrance fees, and meals as listed in the itinerary.
Exclusions: two dinners and activities not listed.
*Price is for payment by check. Credit card fees, if applicable will be assessed at time of payment based on card used.
Group Size: Min 4; Max 7 participants + Chip Clouse. We are known for smaller group sizes with a better birder to guide ratio than most companies offering similar itineraries. This trip starts and ends in the west Denver Metro area (possibly the T-Rex Park-N-Ride lot on the NE corner of I-70 and CR93/ Morrison Exit 259.)
A Note About Gratuities – Your trip cost includes gratuities for your guide, as well as at restaurants. This allows us to reliably and equitably compensate everyone working so hard to keep you happy, healthy, and safe during your trip.
Level of Difficulty: Easy – This trip primarily involves short walks on mostly level gravel roads, paths, sidewalks, or boardwalks. Terrain may be uneven at times, but is not difficult to navigate. Most walks will be under a mile with a total distance of up to three miles on a given day.
Reserve Your Spot Now!