Spring Magic in Nebraska
March 23-27, 2024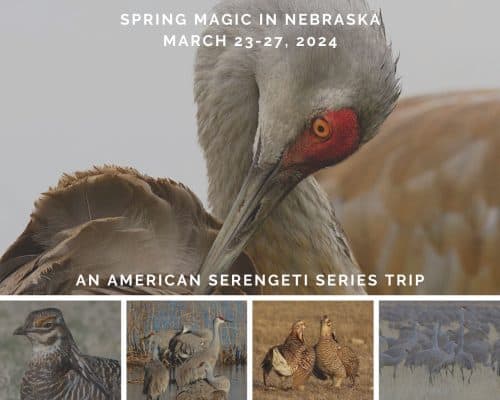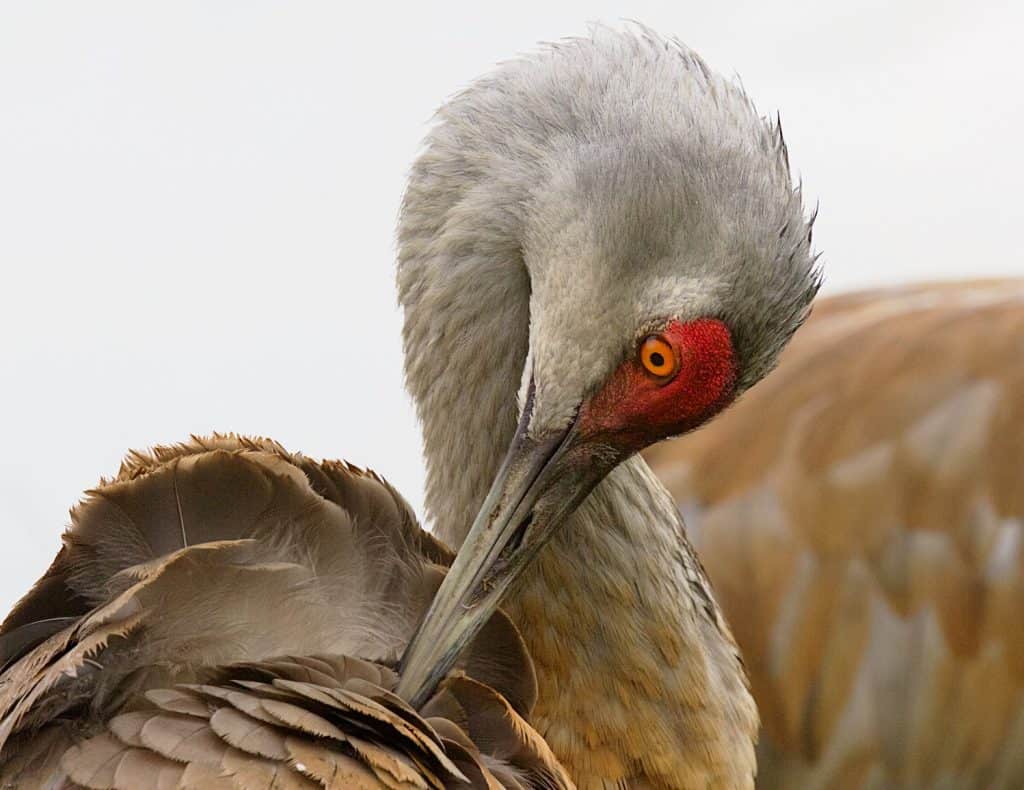 An American Serengeti Series Trip
Collaboration with Denver Audubon Society
Some people regard Nebraska as flyover country – a state to be missed as you move from one coast to the other. We wholeheartedly disagree.
Every March, Nebraska becomes home to one of the greatest wildlife spectacles in North America. More than half a million Sandhill Cranes, the world's largest congregation of cranes, converges on the Platte River Valley in Nebraska. Joining the Sandhill Cranes are another 20 million birds – waterfowl, shorebirds, and the endangered Whooping Crane. They stop to rest and refuel in the adjacent Rainwater Basin before continuing further north to their summer breeding grounds. So many birds are here during spring migration that vast expanses of open sky are filled with sounds of flapping wings and a chorus of calls.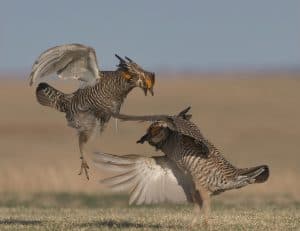 At the same time, male Greater Prairie-Chickens gather at ancient breeding grounds and compete for the chance to mate in Nebraska's prairie grasslands. Their raucous displays include stomping, booming, whooping, and sparring. With exposed tail coverts and balloon-like air sacs flashing orange and yellow, few performances in the bird world are more memorable than this dawn dance of chickens.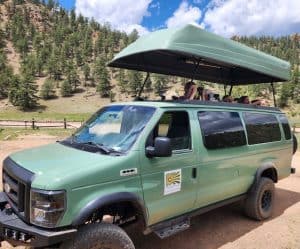 We'll spend five days exploring Nebraska's wildlife hotspots. We have strategically selected areas away from crowds so that we have the time and space to truly enjoy these wildlife spectacles in true Reefs to Rockies style. We'll travel in a custom American safari van with a conversion pop-top and spacious seating. This is not the traditional passenger van you may have traveled in on past trips. This one-of-a-kind vehicle has been specially designed by two wildlife biologists to allow for optimal viewing. It makes a perfect 'blind' and there's ample room for everyone to view at the same time. Get ready for Spring Magic in Nebraska!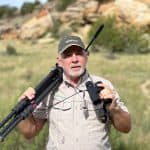 About Your Expedition Leader: Chip Clouse is a long-time bird tour leader and Reefs to Rockies' Lead Naturalist Guide. He's also ProStaff for Opticron Optics and Former Manager of Front Range Birding Company. Originally enamored with tooth and claw predators, his fascination with birds started by volunteering with the North Carolina Wildlife Resources Commission to monitor Peregrine Falcon nest sites. His fascination and love for birds was cemented once he saw his first Western Tanager while working for the Peregrine Fund in Oregon. Chip's experience includes 20 years of bird research and project management experience in nine states and the Caribbean nation of Grenada, a Masters in Conservation Biology from Colorado State University, five years with the American Birding Association, two years as a rep with Novagrade Digiscoping adapters and stints guiding at 15+ different US birding festivals. Chip is excited to share his love of birds and natural history in this trip to Nebraska.
Conservation Impact: The Southern Plains Land Trust (SPLT), founded in 1998, creates and protects a network of shortgrass prairie preserves, ensuring a future for native flora and fauna. A donation to SPLT to aid in their land acquisition efforts will be made on behalf of all participants.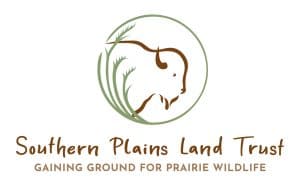 ITINERARY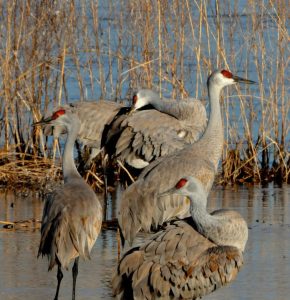 Day 1 (Sat, March 23): Denver to Ogallala ~ Morning departure from Denver for our scenic drive to Nebraska's Platte River Valley with birding stops along the way. We'll spend time this afternoon searching for cranes feeding in fields adjacent to the North Platte River. In the last hour of daylight, we'll watch as flocks of cranes return to their nightly roost sites, our first introduction to the magnitude of this annual wildlife spectacle.
Accommodations: Holiday Inn Express and Suites – Ogallala
Meals: Lunch
Day 2 (Sun, March 24): Ogallala to North Platte ~ We have the morning to continue birding area hotspots as we make our way east to North Platte, a city rich in history located at the confluence of the North and South Platte Rivers. Here, the two rivers becomes the Platte.
This afternoon, we'll embark on a guided bus tour with our local guide exploring Platte River Valley backroads between North Platte and Hershey. We'll stop when we find large groups of Sandhill Cranes so that there's time to learn about their natural history while observing and photographing this charismatic species.
Accommodations: Holiday Inn Express – North Platte
Meals: Breakfast, Lunch, and Dinner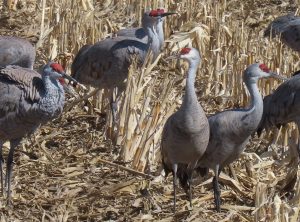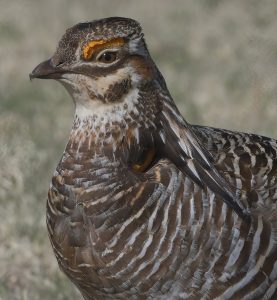 Day 3 (Mon, March 25): North Platte ~ Today begins early with a visit to a nearby ranch that's home to Greater Prairie-Chickens. Before sunrise, males start arriving to this historic lek, a place where multiple males gather during mating season and engage in competitive displays. Our blind is close to the action so we can observe the interactions between the alpha male and his challengers.
This evening, we'll head a short distance out of town to a viewing blind located at a prime location along the shore of the North Platte River. We'll arrive in time to see Sandhill Cranes return from their daytime foraging areas to roost in the river for the night. This evening experience is sure to delight all your senses.
Accommodations: Holiday Inn Express – North Platte
Meals: Breakfast and Lunch
Day 4 (Tues, March 26): North Platte to McCook ~ After a later start this morning, we'll explore area wildlife hotspots in search of migrating flocks and other regional highlights on our way to McCook. We'll hear tales of Greater Prairie-Chickens this evening from an engaging storyteller before our farewell dinner downtown
Accommodations: Cobblestone Hotel and Suites – McCook
Meals: Breakfast, Lunch and Dinner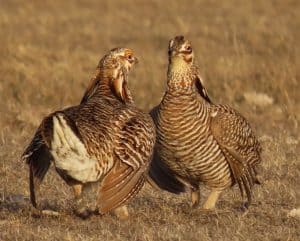 Day 5 (Wed, March 27): McCook to Denver ~ No two leks are the same so we'll wake before dawn again and head to another Nebraska ranch for a morning with dancing chickens. After a hearty mid-morning breakfast in McCook, we'll start making our way back to Denver. There's time for birding and wildlife viewing en route. Stops will be determined based on recent sightings and the group's interests.
Meals: Breakfast and Lunch
DETAILS
Price: $2395* per person based on double occupancy accommodations, i.e. two people sharing a room. If you prefer a private, single occupancy room, add $315*.
Tour cost includes double occupancy accommodations, transportation from Denver in the Roaming Bison Safari Vehicle, meals as listed, driver/guide expedition leader, daily guided wildlife viewing with spotting scope available, activities as listed, additional local guides in North Platte and McCook (bus tour, crane blind, and prairie-chicken leks), gratuities for your guides and at restaurants for included meals, and a conservation donation to SPLT.
Exclusions: transportation to/from meeting point in northeast Denver, travel insurance, 2 dinners, optional activities, optional gratuities for hotel staff, and personal items.
Group Size: min of 4 and max of 7 participants + Expedition Leader. The North Platte activities are on a group basis. We are known for smaller group sizes with a better participant to guide ratio than most companies offering similar itineraries. This trip starts and ends in the Denver Metro area (possibly the RTD's Central Park Station Park-N-Ride).
A Note About Gratuities: Your trip cost includes gratuities for your guides, as well as at restaurants for included meals. This allows us to reliably and equitably compensate everyone working so hard to keep you happy, healthy, and safe during your trip.
Level of Difficulty: Winter weather in Nebraska can be cold and windy. Participants should be prepared to spend to spend birding periods of 30 minutes to an hour outside with walks up to a mile in length. Blinds are not heated and sessions typically last 1-2 hrs.
Reserve Your Spot Now!