Wildlife Wonders of Vancouver Island
August 12-18, 2023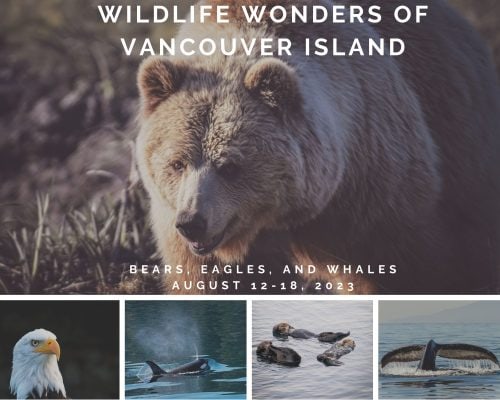 Bears, Birds, and Whales
Vancouver Island in British Columbia (BC), Canada is one of the richest wildlife viewing areas in the country, with diverse and extraordinary species ranging from grizzly bears and humpback whales to eagles and swans. BC is home to the richest diversity of mammals, butterflies, and breeding birds in all of Canada and this trip is scheduled for prime time viewing. Join Reefs to Rockies for this one-of-a-kind summer wildlife expedition to Vancouver Island.
About Your Expedition Leaders
Pam Duynstee has been exploring the remote reaches of B.C. since 2016 as a guide and professional in sustainable tourism. Her passion lies in educating and inspiring connections to the natural world and local culture through experiences. She is dedicated to supporting responsible tourism development in small and rural communities on northern Vancouver Island and across BC. She's looking forward to sharing her love and insider's knowledge of B.C. with you.
Sheridan Samano, Reefs to Rockies Co-Founder and Lead Biologist Guide, is thrilled to co-lead this unique wildlife expedition to B.C. with Pam. This trip was developed based on their combined experiences with an emphasis on getting you into the "right place at the right time" for exceptional sightings. Together, they'll take you to some of Vancouver Island's best locations for wildlife viewing with an emphasis on finding charismatic species including bears, whales, and eagles.
ITINERARY
DAY 1 (Sat, Aug 12): Arrival in Campbell River ~ Your journey begins in Campbell River, a small town on the central east coast of Vancouver Island known as the Salmon Capital of World. Your guides will arrange pick-up from the nearby airport and check-in to our comfortable oceanfront accommodation for the night – an historic salmon fishing lodge once popular amongst celebrities in the 1940s and 50s. Depending on time of arrival, the afternoon can be spent strolling the waterfront trail and fishing pier, or joining an optional whale-watching tour. Dinner is at leisure, either at the on-site restaurant or at one of the many seafood restaurants in town.
Accommodations: Painters Lodge
Meals: None
DAY 2 (Sun, Aug 13): Discovery Island Whales and Wildlife ~ Start the day with breakfast overlooking the ocean. We then join local naturalists and First Nations guides on a full-day wildlife tour of the Discovery Islands. Cruising the Salish Sea we have the chance to see whales (orca and humpbacks), otters, sea lions, seals, and a variety of sea birds. A notable stop is Mitlenatch Island Nature Provincial Park, home to the largest seabird colony in the Strait of Georgia. This reserve is an important nesting colony for thousands of Glaucous-winged Gulls, as well as Pelagic Cormorants, Pigeon Guillemots, Black Oystercatchers, and many other species of birds. Marine life around the island includes river otters and harbor seals. Our custom-designed vessel includes landing-craft design which allows for stops on remote beaches and islands to scout for wildlife on foot.
Campbell River and the Discovery Islands contain rich First Nation history with millennia of occupation by the people of Homalco, Klahoose, Tla'amin, K'ómoks, Wei Wai Kum, We Wai Kai and more. Throughout the day, our guides and skippers will share their knowledge of history, legends, stories and culturally significant sites of the local First Nations. Back on land, there is time to relax at the lodge before heading into town for a dinner.
Accommodations: Painters Lodge
Meals: Breakfast, Lunch and Dinner
DAY 3 (Mon, Aug 14): Campbell River to Telegraph Cove & Alert Bay ~ Our first stop on departure from Campbell River is an interpretive guided hike in Elk Falls Provincial Park to learn about the local ecosystem and old-growth forests. Enjoy a walk across the suspension bridge to view the impressive waterfall as it tumbles into the canyon below.
We then begin our drive "up-island" (~2.5 hours), with rest stops and a packed lunch along the way. Arrive in Telegraph Cove – a quaint fishing village that was established in 1912 as a one-room telegraph station. Many of the historic buildings still stand, built on stilts above the water and connected by a boardwalk. Here you have free time to wander the village, watch the fishermen come and go, and visit the Whale Interpretive Museum, art gallery, and coffee shop. Finally, we make the short drive to Port McNeill (~25 minutes) to board the scenic ferry ride to Alert Bay on Cormorant Island. Just 5km long and barely 1km wide, this island is home to the proud and active 'Namgis First Nation community of about 500 people, along with a mix of Kwakwaka'wakw tribes and a small settler population. After settling into your B&B room, with it's private ocean-view deck perfect for scouting marine wildlife, we're treated to a home-cooked dinner of local delights.
Accommodations: Nimpkish Hotel
Meals: Breakfast, Lunch and Dinner
Day 4 (Tues, Aug 15): Grizzly Bears & More Wildlife Tour ~ Today we join local Indigenous guides – experts in the area's wildlife and history – on a well-equipped vessel for a day on the water. As we head deep into the channels and many islands of the Broughton Archipelago, we may witness humpback whales, orcas, dolphins, eagles, bears, and seabirds. Our experience moves from boat to Zodiac to cruise the shoreline up-close, and then on-foot in search of grizzly bears feeding on salmon in the nearby streams. Along the way, our guides will share stories behind the scenery, of the First Nations who have called these lands home for millennia, and of their sustainable approach to wildlife viewing. We are on the water for ~8-10 hours this day; there is a washroom onboard and a heated cabin. We return to Alert Bay that evening and dinner is at leisure.
Accommodations: Nimpkish Hotel
Meals: Breakfast and Lunch
Day 5 (Wed, Aug 16): Alert Bay to Port Hardy ~ Enjoy a relaxing morning in Alert Bay, with time to stroll the waterfront, watch for wildlife from the B&B's expansive oceanfront deck, or join your guides on a walk through the island's many forest trails.
Alert Bay is a global centre for Indigenous culture, home to the U'Mista Cultural Centre which holds one of the most complete and important collections of Indigenous masks and artifacts in the world. In late morning, we join an interpretive tour of the cultural center to learn more about the local history and their connection to the ecosystems that surround us. This afternoon, we board the ferry back to Vancouver Island and continue driving north – reaching Port Hardy, the last coastal community at the end of the road. A few scenic stops along the way will excite the birders, including the Quatse River Estuary. This estuary is part of the Pacific Flyway corridor and provides critical wintering habitat for over sixty species of waterfowl and other waterbirds. Tonight we check-in to the beautifully appointed Kwa'Lilas Hotel, owned and operated by the local First Nations. Dinner is yours to enjoy as you wish – there is a pub on-site or our guides can provide recommendations in town.
Accommodations: Kwa'Lilas Hotel
Meals: Breakfast and Lunch
Day 6 (Thurs, Aug 17): Whale Watching – Queen Charlotte Strait ~ Led by local guides, we board a small Zodiac boat and set off on the Western Queen Charlotte Strait. With a full day on the water, we travel up the coast and across the channel to the many remote islands nearby. The waters are rich with wildlife, and we have the chance to see sea otters, humpback whales, orcas, Dall's porpoises, Pacific white-sided dolphins, Stellar sea lions, bald eagles, and a multitude of seabirds. We are on the water for ~6 hours this day, and there is a washroom onboard the Zodiac and the option to disembark for a stretch of the legs as needed. A fresh homemade lunch and hot beverages are provided by our guides.
After the tour, we return to the hotel to unwind and pack for tomorrow's departure. On our final night we are treated to a private catered dinner for the group, featuring local, Indigenous-inspired west coast cuisine.
Accommodations: Kwa'Lilas Hotel
Meals: Breakfast, Lunch and Dinner
Day 7 (Fri, Aug 18): Return to Campbell River ~ After a hearty breakfast at the hotel, we stop in town for any last minute souvenirs and a coffee for the road. We then begin our drive south, where the tour ends in Campbell River.
Meals: Breakfast
DETAILS
Price: $5195* per person based on two people sharing double occupancy accommodations. If you prefer private, single occupancy accommodations, add $440*. Private, single occupancy rooms subject to availability.
Inclusions: accommodations (2 nights in Campbell River, 2 nights in Alert Bay, and 2 nights in Port Hardy); airport transfers on arrival and departure days; private transportation Days 2-6; Expedition Leaders – Sheridan Samano & Pamela Duynstee; additional guides (Whales & Wildlife Tour, Elk Falls Provincial Park, Grizzly Bears & more Wildlife Tour, Alert Bay Cultural Center, Whale Watching – Queen Charlotte Strait); activities and entrance fees; meals as listed; GST tax. A donation to support local conservation efforts will be made on behalf of all participants.
Exclusions: flights; passport fees; optional gratuities; 3 dinners; personal expenses; travel insurance.
*Reflects payment by check. Credit card fees, if applicable will be assessed at time of booking based on payment method.
Group Size: 6-8 participants + 2 Expedition Leaders
Level of Difficulty: Basic mobility and moderate fitness level is recommended. Van transportation and some boat tours require sitting for extended periods and embarking/disembarking on uneven ground. Guests should be comfortable walking/hiking on light, unpaved trails for 1-2 hours, and travelling by boat on the ocean with potential waves and swell. Guests must be comfortable spending full days outdoors in potentially inclement weather.
Reserve Your Spot Now!