Gyrfalcon Islands Wildlife Expedition – In Search of Polar Bears, Whales, and More
September 3-10, 2024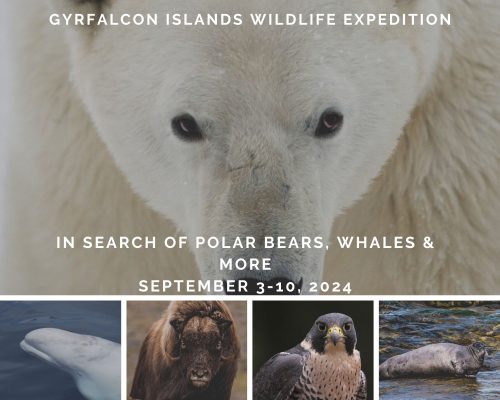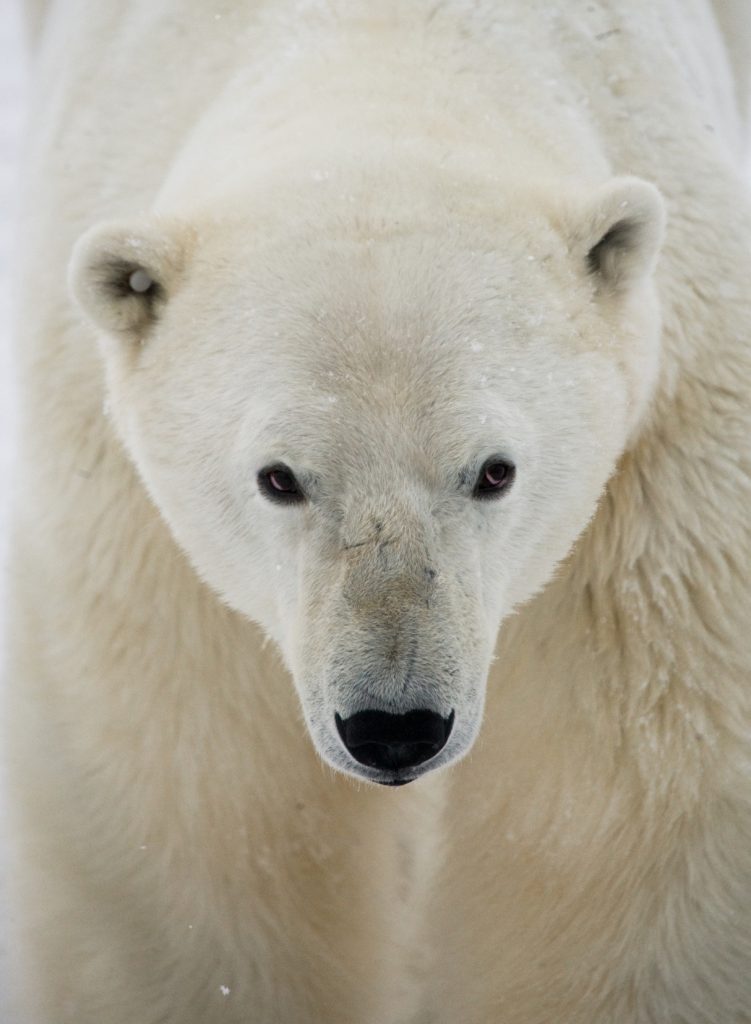 The Destination
Northern Quebec's Ungava Bay and Gyrfalcon Islands will be our base for this 6-day wildlife expedition. Although not officially stated, Ungava Bay is without a doubt home to some of the highest tides in the world. At their highest point, the tides can reach 55 ft in height, a natural phenomenon that is an incredible spectacle to witness.
Ungava Bay has been inhabited by Indigenous peoples for thousands of years and these communities have deep cultural ties to the region's land and sea. Our Inuit hosts for this expedition will share their love and respect for Nunavik during our time together.
The main draw for this trip are the charismatic species that inhabit the bay – polar bears, muskoxen, caribou, seals, beluga whales, birds, and more. In summer, when ice is less abundant, small islands in the bay become ice floes for polar bears. This is a rare opportunity to search for wild polar bears in a spectacularly remote and untouched natural setting.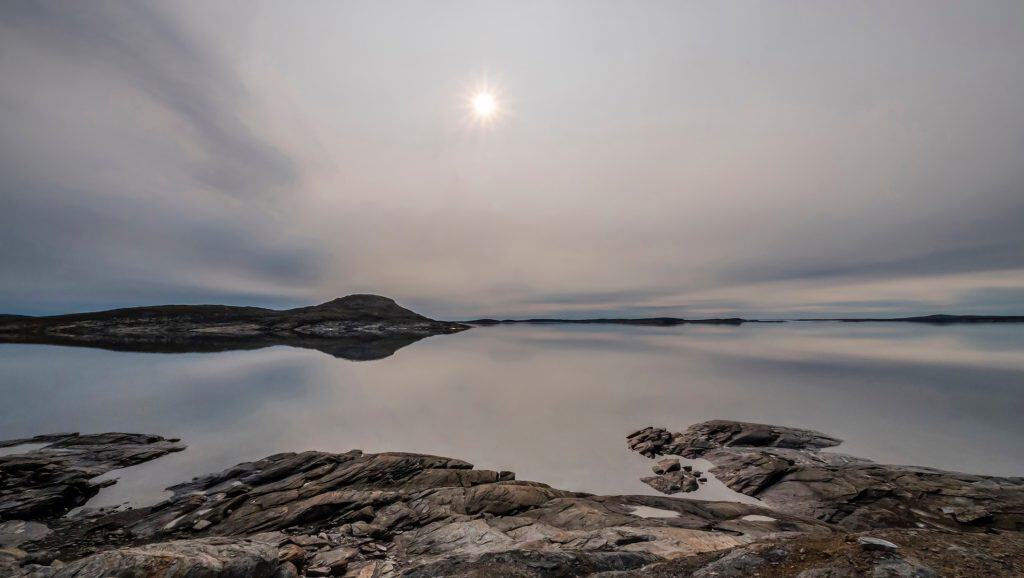 Our Accommodations
Our camp offers five large shelter pods that are perfect for two people. Each pod is 14 feet in diameter and is made of rigid fiberglass that's sturdy and wind-resistant, allowing for a peaceful night's sleep. Pods are equipped with 2 single beds, a toilet, a sink, a desk, and seats for relaxing. They're insulated with a temperature control feature that guarantees a real "glamping" experience, even during the coldest nights of Nunavik. There is a separate shower house with a toilet for the camp. Because of the limited number of pods, each one is only available for booking by two people. Private, single occupancy pods are not available for this special small group expedition. Solo travelers will be paired.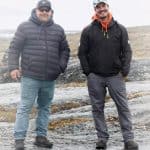 James May is an Inuk who was born and raised in Kuujjuaq, but he now resides in Tasiujaq. James brings an extensive background in tourism with reputable outfitters in the region. Jonathan Grenier is also an Inuk born and raised in Kuujjuaq. He's been a local fishing guide on the Koksoak River for more than a decade. Together, James and Jon founded Ungava Polar Eco Tours with the mission of offering something truly unique and 100% Inuit-owned in Nunavik's tourism industry. James is our lead expedition guide with Jon joining us for some of the expedition.
Sheridan Samano, Reefs to Rockies Co-Founder and Lead Biologist Guide, is thrilled to co-lead this unique wildlife expedition with the guide team at Ungava. This trip was developed based on their combined experiences with an emphasis on getting you into the "right place at the right time" for exceptional sightings. Together, they'll take you to some of the Gyrfalcon Islands' best locations for wildlife viewing with an emphasis on finding charismatic species including bears, whales, caribou, muskoxen, and an array of avifauna.
Important Note
The following itinerary lists possible daily activities and is therefore, indicative. It's important to note that the core focus of this special Reefs to Rockies group trip is wildlife viewing. We hope to book the camp on a private basis for these dates. If weather allows and the group is interested in more time on the water, we will make every effort to include more boat excursions. The following schedule is highly dependent on current weather conditions and should only be used as a proposed outline of daily activities.
ITINERARY
Day 0 (Tues, Sept 3): Arrival to Montreal. Accommodations for tonight are not included. We will assist you with coordinating flight and hotel logistics.
Day 1 (Wed, Sept 4): Montreal to Gyrfalcon Islands ~ In Montreal, we will board our regional 2hr20 min flight operated by an Inuit-owned airline to Kuujjuaq. There, we'll transfer to a smaller twin-otter plane for our flight to Tiercel Island. A short drive or hike down to our accommodations mark the beginning of our time together exploring the Gyrfalcon Islands. After a safety briefing by the site coordinator, there's time to settle into our accommodations, followed by dinner and drinks by the fire.
Day 2 (Thurs, Sept 5): Boat Tour & Wildlife Viewing ~ Our first full day of adventure starts with an amazing boat tour around the Gyrfalcon Islands. It will be the perfect occasion to view and photograph wildlife, such as polar bears, muskoxen, caribous, seals, birds, and maybe even whales.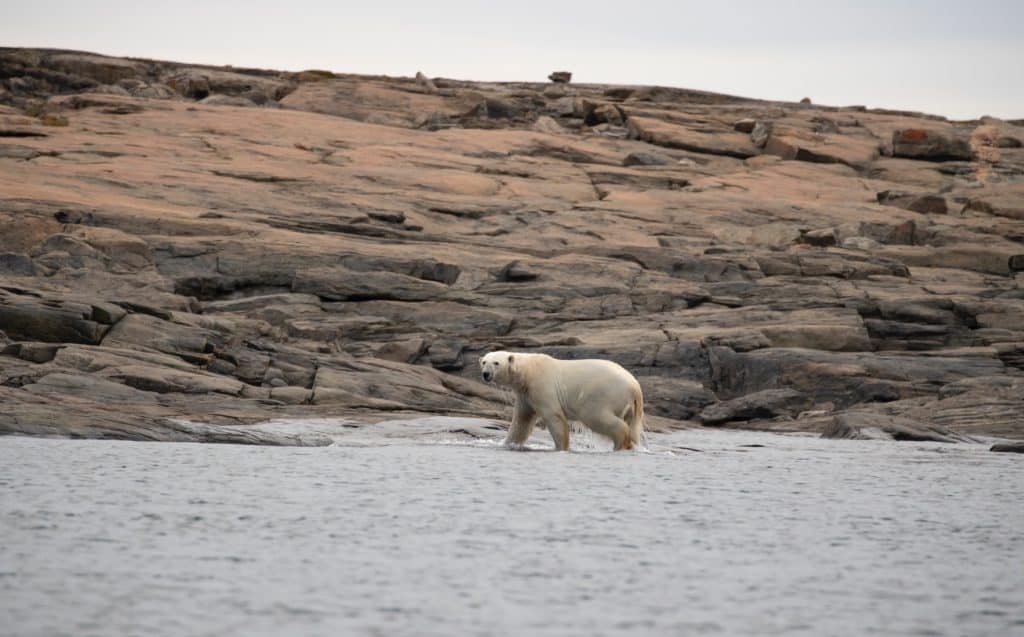 Days 3-4 (Fri, Sept 6 – Sat, Sept 7): Hiking, Wildlife Viewing, and Cultural Immersion ~ We'll spend these two days exploring on foot with our experienced Inuk guide. We'll discover local Inuit culture as we learn about the area's flora and fauna and how these communities have lived sustainably for generations. This is an opportunity to fully immerse and experience the sights and sounds of Nunavik. For those interested, fat bikes and ATVs are available to explore even more of the island.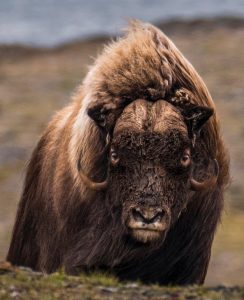 Days 5-6 (Sun, Sept 8 – Mon, Sept 9): Boat Tours and Wildlife Viewing ~ We have more chances to explore by boat to view ever-changing landscapes, rugged coastlines, icebergs, and of course, the wildlife that make this part of the world so special. Our Farewell Dinner will allow us to relive trip highlights from our time together in Nunavik, followed by drinks next to a warm fire. We may even experience a farewell with Northern Lights dancing in the sky.
Day 7 (Tues, Sept 10): Departure ~ After a final breakfast at camp, we'll board the twin-otter plane for our flight to Kuujjuaq. From there, we'll connect to our regional flight back to Montreal. Plan to book your departure flight from Montreal at 10pm or later. Accommodations in Montreal this evening are not included. We will help coordinate those logistics, if needed.
DETAILS
Price: $10,950* per person.
Includes: round-trip flights between Montreal and Kuujjuaq; double occupancy shelter dome; all meals starting with dinner on Day 1 and through breakfast on Day 7; and daily guided wildlife viewing Days 2-6.
Excludes: international flights; passport/visa fees; mandatory travel insurance policy with emergency medical evacuation benefit; pre- and post- hotel stays; optional gratuities; activities not listed; personal expenses.
**Reflects payment by check. Credit card fees, if applicable will be assessed at time of booking based on payment method.
Group Size: 5-9 participants + 2 Expedition Leaders
Level of Difficulty – Moderate: This trip is best suited for participants that are comfortable being active for approximately 4-6 hours a day, moving across uneven ground with loose or snowy ground, stepping on/off small boats, flying in a twin-otter plane, and traveling by boat on the ocean with potential waves and swell. Guests must be comfortable spending full days outdoors in potentially inclement weather. Biking and ATV rides are optional activities that can be replaced with hiking.
Photo credits: Peaceful Lagoon, Musk Ox and Bearded Seal by David Anderson Ward; Nunavik Polar Bear by Caroline Vancoillie
Reserve Your Spot Now!